The Pau Hana Navio 11' SUP is best for everything from touring to all around. You'll cover more ground with less paddling than any other board of its small size. The Navio is a compact day touring board designed to glide effortlessly with every stroke.
Escape on the Navio day tour stand up paddle board for an afternoon adventure. The only SUP on the market to feature a full keel line, it paddles straighter and with less effort for a quiet stable ride. Originally designed in 2006, the Navio is the latest version of a keel hull paddle board that was the first of its kind in SUP. This model features a keel extending from the nose and extending all the way down to the tail. The Navio won't get blown off course in the wind, It tracks amazingly straight and glides effortlessly through the water. The double concave channels the water down the length of the board and silences choppy waves. Full rails add to the secondary stability which makes the board forgiving. This is one of the best paddle board choices for a day tour in a lake or cruising in wetlands along the coast.
It's a great fishing board, with through holes for staking, or inserting a fish finder.
Construction:
The Navio is built using Pau Hana's Bamboo Sandwich Construction. The materials are vacuum compressed with an EPS (Expanded Polystyrene) foam core, epoxy resin and bamboo reinforcement in load bearing areas. All installed components are reinforced with a high density, high strength material.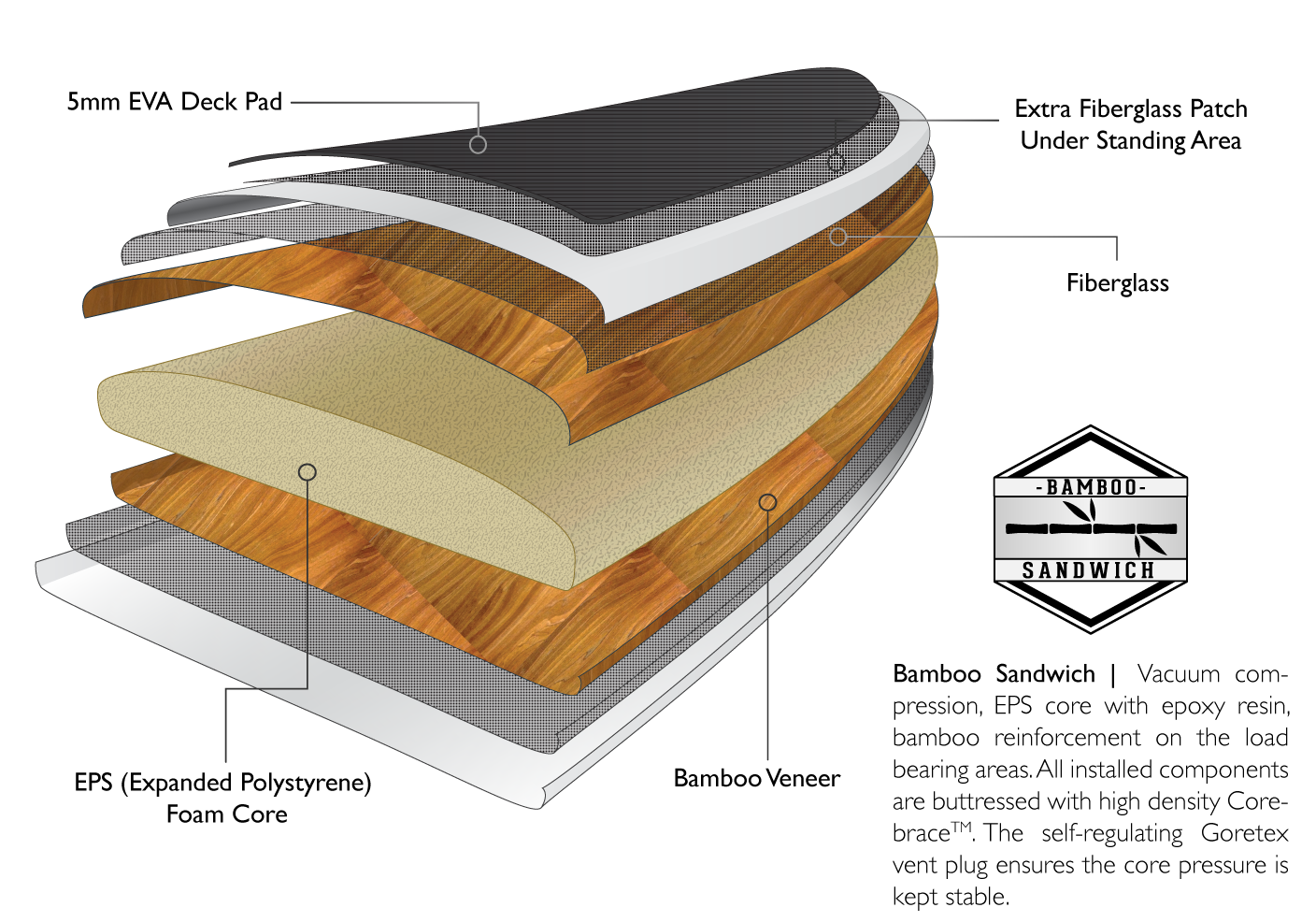 Specifications
Fits Small to  Extra Large Paddlers

Displacement



Length 
11'
Width 
32"
Depth 
6"
Weight 
32lbs

Capacity 
Beg: 237lbs  Int: 271lbs  Adv: 320lbs

Construction 
Bamboo Sandwich

Tracking System 
Single Fin

Volume

225L

Best Use 
All Around - Fishing